Teamwork
The strength of teamwork is the strength of Rollerdeck Associates.
We are a dynamic, multidisciplinary team of seasoned public affairs and communications professionals and skilled networkers, all committed to serving our clients.
And as we continue adding new clients, while existing client needs keep mounting, we are constantly expanding our team, adding new experience and expertise.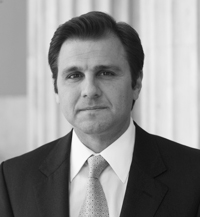 Founder & Managing Partner
Ioannis A. Kofinis
Ioannis breathes politics.
Ioannis' prized career in public service – including appointments as Chairman of the Board of Directors and Secretary General of the Greek National Tourism Organization, Head of Cabinet of the Deputy Minister of Foreign Affairs and Special Advisor to the Hellenic Parliament – has equipped him with a first-hand, comprehensive understanding of the political decision- making process and the system's dynamics.
He gets naturally into the policy-makers' shoes and knows what to say and what not to, in order to create win-win solutions, avoid potential grievances and build the common ground, necessary to advance client interests.
For over a decade now, Ioannis has been responsible for the advocacy efforts and strategic positioning of several leading industry associations and companies in diverse sectors, such as the Federation of Recycling and Energy Recovery Industries and Enterprises (SEPAN), Helactor SA and TRASTOR REIC.
He is considered an expert in the tourism sector and has been crafting and executing public affairs and strategic communications programs for major institutional actors such as the Hellenic Chamber of Hotels and the Hellenic Hoteliers Federation, as well as global leaders such as Expedia and TUI.
He has been currently mandated to build a program to position the sector on the frontline of the national recovery plan, linking tourism to the European Recovery Plan's major priorities such as digitization, green economy etc.
He holds a Master of Science in Foreign Service from the Edmund A. Walsh School, Georgetown University and received his Bachelor's degree from Panteion University of Social and Political Sciences in Athens.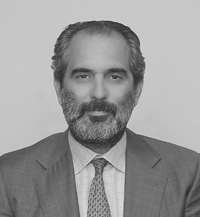 Partner
John G. Enepekides
John breathes stakeholder engagement.
He brings in extensive engagement experience, having spent countless hours at policy makers' offices advancing client interests. He engages across the ladder of hierarchy, with a unique ability to swiftly profile personalities, prioritize needs and accumulate intelligence, while setting up the environment for a working relationship.
He is considered a top-tier lobbyist in highly-regulated sectors, such as healthcare, aviation and security & defense, with an impressive track record of successful projects in public policy change, crisis management and procurement.
He gained extensive experience while serving as Director of Public Affairs for Burson-Marsteller (Advocate/ Athens), where – among other projects – he was summoned to handle Siemens Hellas' reputational crisis; at the same time, he has been the favorite consultant to major healthcare distributors (ie. Coloplast AS), setting the regulatory framework to defend and increase market shares.
He is holding a record for negotiating – for ten (10) years in a row, the reimbursement list of medical devices and services, offered by the National Organization for the Provision of Health Services (E.O.P.Y.Y.).
He has been cleared by at two global aerospace companies as a channel partner for Greece; he is currently working on procurement programs with the Hellenic Coast Guard, introducing systems that carry an Artificial Intelligence backbone, among other projects.
He is an elected member of the Board of Directors of the American-Hellenic Chamber of Commerce, while serving on the Board of Directors of the Ecali Club.
He holds a Bachelor of Science in Mechanical Engineering (Tufts University), a post Graduate Diploma in Manufacturing Engineering (University of Warwick) and a Masters in Business Administration (ALBA Business Graduate School).
Senior Associate
Zacharias Loudaros
Zacharias breathes content.
He has been combining, for over 30 years, the experience in the media sector – print and digital, with the passion of a storyteller, skilled to strike the balance between creativity and analysis with metrics; he always successfully conveys the right message to the right audience.
Zacharias has created Prime-minister, Minister, Members of the Parliament and leading corporations' CEO – level content on speeches, articles, interviews, talking points and sound bites for TV use.
During the last 10 years, he has perfected his specialization on digital communications. In particular, he oversaw the original and high-level content creation and publishing for one of the top 100 News sites.
He has acted – in parallel – as the Head of Content on marketing for major companies, such as DEPA (ΔΕΠΑ), PPC (ΔΕΗ), Olympia Odos (Ολυμπία Οδός) and Eurobank.
His passion for New Media has led him to the co- foundation of i-Dialogue, a non-for-profit company with a mission on effective digital communications for SMEs.
Account Manager
Yulika Tzavara
Yulika breathes corporate communications.
Yulika has five years solid experience from Communications and Public Relations agencies.
She has acquired on-the-job knowledge in the design and implementation of integrated communication campaigns in Greece and abroad, with diverse clientele in Tourism, Environment, Aviation and Insurance sectors.
Previously to joining Rollerdeck Associates, Yulika was a Blue Book Trainee in DG COMM, European Commission's Representation in Cyprus, gaining insights on institutional comms.
She holds an MSc in Political Theory from London School of Economics and an MA in Public Policy from King's University London. She has obtained a Bachelor of Arts in Political Science from University of Essex, UK.
Consultant
George Koukoulakis
George breathes public affairs.
He has over ten years of international experience in communications and public affairs, ranging from a government ministry and multinational enterprises to a trade association and non-governmental organisations, having acquired a global insight and multicultural competencies.
His experience includes the participation in the Greek Foreign Affairs Ministry's representation to EU Council's technical meetings. As an EU monitoring consultant in the London-headquartered political communications agency Dods, he assisted over 300 clients with their public affairs campaigns and stakeholder engagement in Brussels. He has also undertaken numerous projects of political communications as a freelancer for the European branches of the global PR agency ICF Next and the consultancy Cambre Associates.
With his cross-sectoral experience, meticulousness and solution-driven attitude, he handles the different public affairs engagement needs of his accounts.
He holds a Μasters degree on European Union politics from the Université libre de Bruxelles and a Bachelor of International and European Studies from Panteion University in Athens.
Executive Assistant and Office Manager
Eleonora Giatsidou
Eleonora breathes administration.
She is an accomplished Executive Assistant and Office Manager supporting the work of Rollerdeck Associates' Managing Partner, as well as ensuring the smooth operation of the firm's offices.
Before joining Rollerdeck Associates, Eleonora was a Senior Office Administrator at DVB Bank SE, Athens Branch, following a multi-year career in the banking sector with an extensive experience in Shipping Finance.
She holds a degree in Economics and Regional Development from the Panteion University of Social and Political Sciences of Athens.